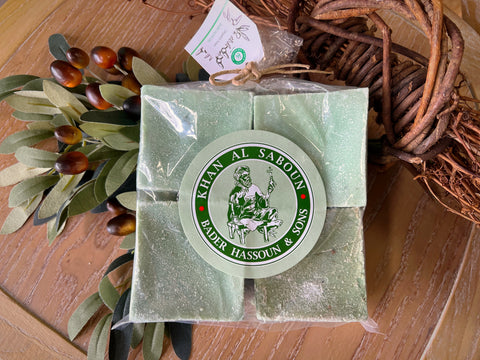 Khan Al Saboun - Featured Product
Olive Oil Soap Pack of 4 - 480g
$22.00
$26.00
you save $4.00
This soap is made of pure olive oil that hydrates the skin, rejuvenates it while maintaining a level of high softness.
It protects the skin from different skin conditions and is considered a potent anti-aging oil. Hydrates, rejuvenates and maintains skin softness.
Ingredients:
Olea Europaea (Olive) Leaf Extract, Olea Europaea (Olive) Fruit Oil, Cocos Nucifera (Coconut) Oil, Laurus Nobilis (Laurel) Leaf Oil, Sodium Hydroxide.
Usage: Wash your skin with water, then gently massage the soap on your skin in a circular motion for 30 seconds, then wash it with water. Suitable for all skin types. May be used daily.