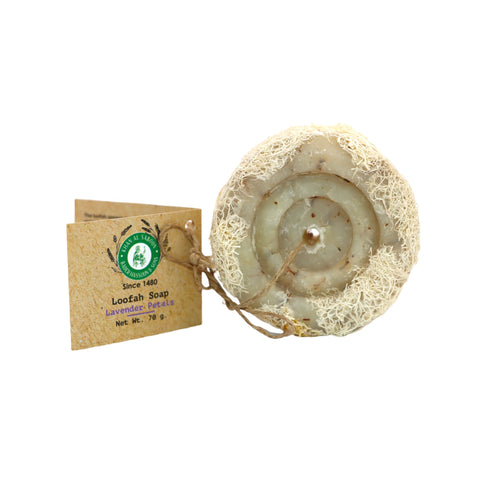 Khan Al Saboun - Featured Product
Herbal Soap Lavender with Loofah – 70g
Calming effect and is antispasmodic and pacifying. Soothe sunburns and reduce scarring. Reduce skin inflammation Reduce anxiety, stress, and insomnia. Repel clothes moths. The loofah sponge is composed of slightly rough fibers that are very helpful to exfoliate your skin. When combined with the organic loofah and petals, it creates a must-use exfoliating product. In addition to this, it is also beneficial for you to eliminate dead skin cells that will automatically give you smooth, youthful as well as glowing skin. It stimulates your skin's blood circulation. Contains pure natural loofah.
Ingredients: Aqua, Olea Europaea (Olive) Leaf Extract, Lavandula Angustifolia (Lavender) Flower Extract, Lavandula Angustifolia (Lavender) Flower Oil, Cocos Nucifera (Coconut) Oil, Olea Europaea (Olive) Fruit Oil, Elaeis Guineensis (Palm) Oil, Prunus Amygdalus Dulcis (Sweet Almond) Oil, Vegetable Glycerin, Sodium hydroxide, Luffa.
Usage: Wash your skin with water, then use soap on the body and rub your body in a circular motion for 30 seconds, then wash it with water. Pay attention to dry and rough areas such as heels, elbows, and knees, and use it daily to protect your skin. it is suitable for all skin types.